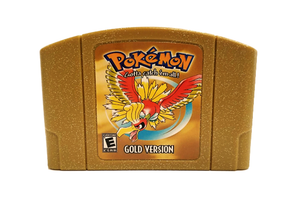 Pokémon Gold Version For Nintendo 64 N64 NTSC-U/C US
This game requires the Expansion Pak to function properly.
Pokémon Gold Version mod of the classic Game Boy game made to play on the original Nintendo 64 hardware. Plays on US & Canada consoles.

Game cartridge only as you see in the pictures
Retail box and manual are NOT included
Comes in a clear protective sleeve
In new and unused condition
Notes about the game:
1. Only compatible on the NTSC/USA version N64 console
2. Expansion Pak is required
3. RTC (Real Time Clock ) does not function.
Controls:

Control your character with the joystick or the D-Pad.
C-Right button to fast forward.
C- Down button to save anywhere in the game.
Hold C-Up button to load your file.
Pressing C-Down button on the main menu will save over your save file, it's important not to press C-Up and C-Down button.
This is a fan-made game and has no affiliation with Nintendo or any of the licensed properties referenced. All rights belong to the respected license holders.