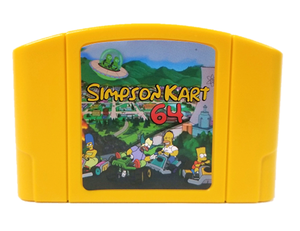 Simpsons Kart 64 Cartridge Game For Nintendo 64 N64 NTSC-U/C US
NOTE: This game requires the N64 Ram Expansion Pack to play the game.
Homebrew hack of the classic game, Mario Kart 64 with some of your favorite Simpson characters. Race through the maps, filled with various Simpsons references, as Homer, Bart, Lisa, Marge, Apu, Krusty, Chief Wiggum, or Flanders. Dodge shaken cans of Duff, boost your speed with a sip of Buzz Cola, and pester other racers with Bart's slingshot.

This is a fan-made parody and has no affiliation with Nintendo or any of the licensed properties referenced. All rights belong to the respected license holders.

*Requires the N64 Ram Expansion Pack (red cartridge) for the game to play on your Nintendo 64.