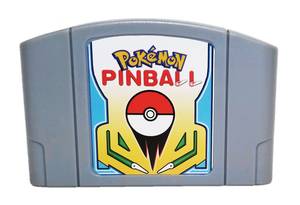 Pokémon Pinball For Nintendo 64 N64 NTSC-U/C US
This game requires the Expansion Pak to function properly.
Pokémon Pinball port of the classic Game Boy game made to play on the original Nintendo 64 hardware. Plays on US & Canada consoles.
Game cartridge only as you see in the pictures
Retail box and manual are NOT included
Comes in a clear protective sleeve
In new and unused condition
Notes about the game:
1. Only compatible on the NTSC/USA version N64 console
2. Expansion Pak is required

Controls:

A is to start the ball, right flipper, and to confirm command selections in the menu.
B is to title the field left, cancel command selections in the menu.
Z is to title the field right.
Left Arrow is for the left flipper.
Left-C will allow you to change the controls.
Down-C is to save your progress.