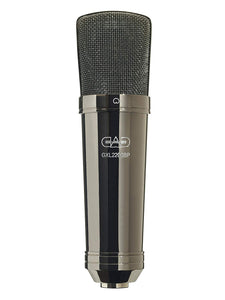 CAD Audio GXL2200BP Large Diaphragm Cardioid Condenser Microphone, Black Chrome Finish
Large diaphragm condenser microphone inch gold Vapor deposited diaphragm. Exceptional Sensitivity and low distortion make it an outstanding performer in critical live and recording applications.
The CAD Audio GXL2200BP condenser microphone consists of a thin conductive membrane stretched very close to a stationary plate. High voltage is applied between the membrane and the plate. As the membrane vibrates, electrons move. These moving electrons are sensed as voltage. This voltage can be strengthened (but not necessarily increased) by silicon.
The cardioid polar pattern is ideal for field-effect recording for vocals and instruments, but it also works well for live applications. Use condenser mics to get a clear directional recording of choirs, acoustic instruments, strings, piano, and cymbals/overheads.
Large diaphragm condenser microphone

1 inch gold vapor deposited disphragm

Exceptional sensitivity and low distortion make it an outstanding performer in critical live and recording applications