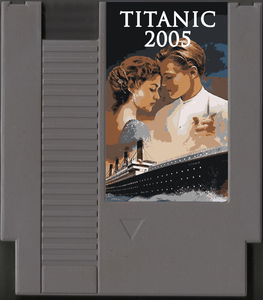 Titanic 2005: NES Nintendo Entertainment System, Game Cartridge Only
Titanic, or Titanic 2005, is an unlicensed game produced by Nice Code/ Dragon Co. and published by Shenzhen Nanjing Technology in 2005 for the Nintendo Entertainment System (NES). Titanic 2005 is a platformer where you play as either Jack or Rose and have to escape from the sinking Titanic. This is a reproduction of Titanic 2005 for the NTSC-U region for the NES console.

Note about controls: The Up arrow will allow you to climb surfaces that can be scaled.